THE
Metal Allegiance
all-star project has joined the Bloodstock bill - and if you haven't heard of it here are some names involved: Alex Skolnick, Mark Osegueda, Sott Ian, Charlie Benante, Gary Holt, Mike Portnoy and the MA leader Mark Menghi.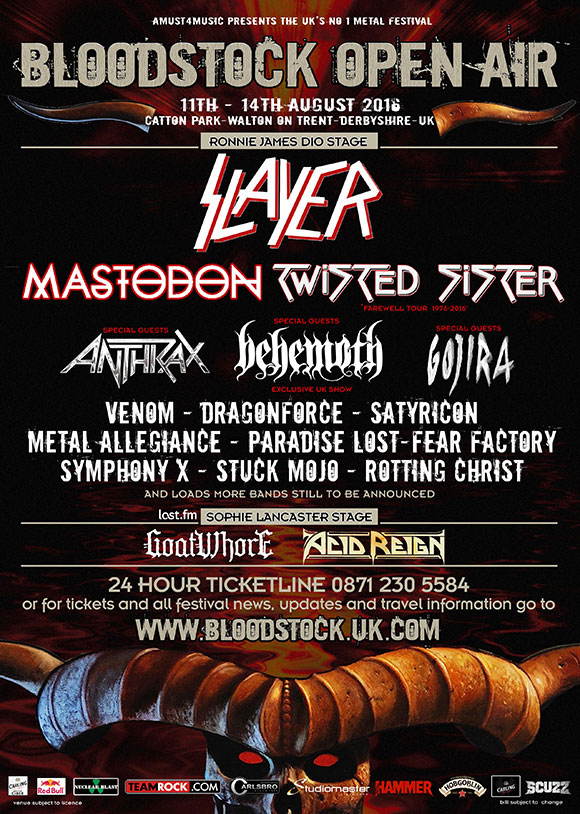 As if that wasn't enough, Atlanta rap metallers,
Stuck Mojo
and the awesome
Goatwhore
have been added to this, already awesome line-up. C'mon! Mastodon, Twisted Sister, Slayer, Anthrax, Rotting Christ, Venom, Dragonforce, Acid Rein, Paradise Lost, Satyricon and Fear Factory are among those announced so far.
Get yer tickets sorted out for this festival which takes place in Catton Park from August 11th to 14th. And, here's one way.
Bloodstock's
popular Deposit Scheme for 2016 has undergone a few changes this year and it's now even more manageable to pay for your ticket in stages, with the scheme expanding the number of payments from 3 months to 5 months.
To pay this way, just sign-up at any time before 29th February
here
. VIP tickets are not available via the payment plan, although pending remaining VIP availability, you could purchase a VIP upgrade in July or August and still be in time for the festival.
And, don't forget that you can help get a Northern Ireland band added to the bill as once again The Distortion Project hosts the local Metal2TheMasses contest - Heat One is on January 30th, check out the DP Facebook pages for more details.